The following honey muffin recipe is a sample gluten-free muffin recipe taken from my book "Cooking with Coconut Flour."
All of the recipes in "Cooking with Coconut Flour" are totally wheat free, and only use coconut flour.
No other flours are needed for any of the recipes in my book.
Gluten free recipes include breads, muffins, cakes, cookies, crackers, pies, and even main dishes like chicken pot pie and chicken and dumpling stew.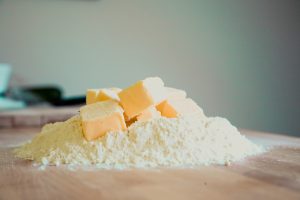 Overview of The Gluten Free Honey Muffin Exclusive Sample Recipe:
This gluten free honey muffin recipe produces a texture and a taste that is just as good as any muffin made with white wheat flour.While this muffin recipe does contains some honey, it is much lower in carbohydrate than ordinary muffins. This recipe makes 6 muffins but only uses 1/4 cup of coconut flour. This is a basic coconut flour muffin recipe you can use to make a variety of muffins.
The advantage of this muffin recipe is it contains no wheat or gluten, it is

high in fiber

and is relatively low in digestible carbohydrate.
Ingredients For The Gluten Free, Coconut Honey Muffins:
3 eggs
1/4 cup sifted coconut flour
2 tablespoons butter, melted
1/4 teaspoon vanilla
2 tablespoons coconut milk or whole milk
1/4 teaspoon salt
3 tablespoons honey
1/4 teaspoon baking powder
Directions:
Blend together eggs, butter, coconut milk, honey, salt, and vanilla.
Combine coconut flour with baking powder and thoroughly mix into batter until there are no lumps.
Pour batter into greased muffin cups.
Bake at 400 degrees F (205 C) for 15 minutes.
Makes 6 muffins, but only uses 1/4 cup of coconut flour.Note: You can buy coconut flour on-line for less, or from many health food stores.
About The Author:
Bruce Fife, ND is a
certified nutritionist
and naturopathic physician. He is he author 20 books including "Cooking with Coconut Flour" and "Coconut Cures" and serves as the director of the Coconut Research Center,