Are you looking for a blueberry muffin that is healthy and scrumptiously good…….look no further.
Because this blueberry muffin is a "must try." It is gluten free (only because I love baking with gluten free flour) and happens to be a very healthy blueberry muffin full of nutrients, fiber and protein.
The BEST PART is this blueberry muffins is DELICIOUS!
Give your kids this delicious blueberry muffin for breakfast and they will be VERY happy!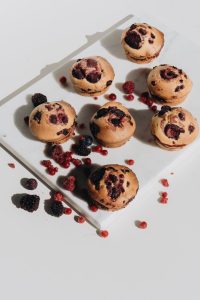 It is most common for a blueberry muffin to have nothing more than blueberries, white flour and white sugar; without a lot of health benefits. Not this blueberry muffin…..it is HEALTHY and tastes great!
Overview of This Scrumptiously Delicious Blueberry Muffin
Eating this blueberry muffin for a snack or at breakfast has become a favorite recipe in our house.  This healthy muffin uses a combination of almond flour, coconut flour, quinoa flour, and blueberries. This easy to make blueberry muffin is packed with nutrients and taste.
However, the great news is, there is no butter in the blueberry muffin as it uses Grape seed oil and yogurt instead, and is sweetened with nutrient rich coconut sugar.
Enjoy a Scrumptious Blueberry Muffin:
Ingredients:
1 1/2 cup Blanched Almond Flour (Do not use almond meal, it will not turn out)
1/4 cup of  Quinoa Flour
1/4 cup of  Coconut Flour
2 teaspoons baking powder
2 teaspoons baking soda
1 1/2  cups of organic  blueberries
1/2 cup coconut sugar
3 eggs
1 cup of nonfat organic Greek yogurt
3 tablespoons Grape seed Oil
1 teaspoon vanilla
Cook 22-25 minutes on 350 degrees F or 325 degrees convection if placing in the same oven.
Makes 18  blueberry muffins
Directions:
Directions:
Using the paddle attachment on your mixer and combine the eggs, vanilla, coconut sugar, Grapeseed Oil and non fat yogurt until mixed.
In a separate bowl sift together the almond flour, coconut flour, quinoa flour, baking soda and baking powder.
Mix the blueberries in the flour mixture so it doesn't sink to the bottom when baked. (A nice trick)
Pour the dry ingredients into the wet ingredients and mix by hand until it is combined. (Do not over mix)
Using two regular size muffin pans, line them with paper muffin inserts or silicone. (This makes clean up a breeze)
With an ice cream scoop, fill the muffin tins 3/4 of the way to the top.
Bake on 350 degrees for 20-25 minutes until golden brown, or 325 in a convection oven. (It is best to use two ovens if available and if you don't have convection settings)
Remove from pan right away and place on a cooling rack.
Freeze any blueberry muffin that you will not eat within a day. (They are wonderful to pop out of the freezer when you want them)
NOTE: If you read my blog post, "Make My Muffins Rise" you will see a test I performed showing that your muffins rise higher when you spray oil on the pan directly versus using tins. However, with blueberry muffins, I still like to use paper liners because the blueberries stick to the bottom of the pan making it hard to clean up.
Enjoy this muffin as a healthy breakfast or a great snack!