Why bake from scratch for your kids versus buying processed baked goods at the store?
I mean really. Why not buy processed cookies, cakes, muffins and breads? After all, it is EASY to buy processed baked goodies. If you do this, you don't have to cook, bake or make a mess in your kitchen. All it takes is a trip to the store and VOILA, you are done.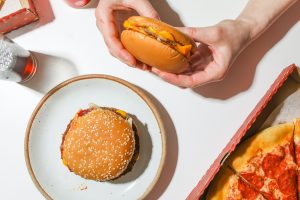 As a mom with two babies under 3, I totally understand why a mom  has to have a good reason to spend extra time on anything. With young kids and the never ending demands placed on moms' from buying clothes, groceries, cleaning the house, making dinner, educating your kids, finding engaging things for them to do, planning activities, driving kids to classes, scheduling play dates and tending to your husband needs; YES……time is short, precious and LACKING to say the least.
So the question remains, why should a mom spend any time baking living healthy treats if you are so limited in time already?
This question is a very  good question, and is really important to understand. If you have  little time, it makes perfect sense that you would want to know why it is so important to bake home made chocolate cookies and banana muffins.
Top Five Reasons To Bake From Scratch For Your Kids
#1. GIVE YOUR KIDS SWEET TREATS WITHOUT THE BAD FATS, CHEMICALS AND FOOD COLORING
When you bake from scratch, you can feed your kids heathy baked products. As a mom we are growing little beings, and what they put in their mouth will help them be healthy or not.
By baking yourself, you don't have to use ANY trans fats, partially hydrogenated oils or high fructose corn syrup; all of which is linked to rampant disease in kids and adults. You don't have to watch your kids eat food that contains a list of chemicals and additives a mile long; none of which you even know what they are. In a nutshell, baking from scratch makes your kids and your husband MUCH healthier.
Kids can consume a lot of baked goods in a day. Pancakes for breakfast, a muffin at lunch, a cookie as a snack, and a piece of cake at dessert. Imagine…………if all of these items were REALLY healthy, how much more energy, health and vitality would our kids have?
#2. PREVENT HEALTH PROBLEMS AND BAKE WITH HEALTHY OILS
When you bake from scratch, you can bake with oil versus even using saturated fats like butter. You can chose to only have healthy fats in your baked goods; fats that are known for being directly helpful in preventing heart problems.
The baked products that you buy in the store are one of the unhealthiest types of processed foods that there is.
#3. USE NATURAL, NUTRIENT RICH SWEETENERS THAT NOURISH KIDS AND DON'T MAKE THEM CRAZY
When you bake from scratch, you can use natural, nutrient rich natural sugars like coconut sugar, Muscovado, Sucanat, date sugar,  raw honey and maple syrup versus using high fructose corn syrup and/or refined white sugar that makes your kids crazy.
Did you know that there are natural, healthy sweeteners that taste great and are loaded with vitamins, minerals and some even have vital amino acids?
#4. ADD FIBER, PROTEIN, VITAMIN AND MINERALS IN BAKED GOODS TO MAKE YOUR KID'S FEEL GREAT!
When you bake from scratch, you can put whole grain flours, wheat germs, brans, vegetable purees, fruit and nuts into your kid's treats. This helps provide a healthy food that fills your kids up; giving them energy and stabilizing their moods.
#5. ENJOY GIVING TREATS TO YOUR KIDS THEY LOVE, YET YOU KNOW THEY ARE HEALTHY!
Lastly, when you bake from scratch, you can bake healthy cookies, healthy desserts and healthy muffins that smell wonderful swirling through your home and your kids love the taste of. Healthy baked treats that taste GREAT are a wonderful way to have healthy kids.
There really is not a better feeling in the world then baking sweet treats that your kids LOVE and knowing they are  actually healthy for your little pumpkins.
Happy and healthy baking! If you have a healthy muffin recipe that you want to share, please do!