Are you ready to try another super baking flour that is really healthy for you? Try Blanched Almond Flour and/or almond meal when making healthy cookies or healthy muffins. Blanched almond flour is gluten free and can be used as a main flour or can be combined with other gluten free flours.
Blanched almond flour and/or almond meal add a moist, sweet taste to your baked goods and also share the wonderful health benefits of the super food- the almond.
You can make DELICIOUS tasting desserts using almond flour alone, (if you use a recipe that was designed for this) and/or use a combination of whole grain flours and almond flour, which is my preference.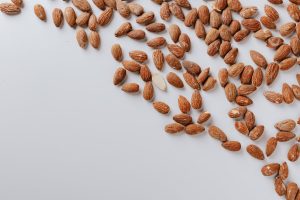 Health Benefits of Blanched Almond Flour and Almond Meal
Blanched almond flour  and almond meal is a high protein, low carb, gluten free flour that is basically just ground up almonds. Everyone has heard about how healthy almonds are and eating blanched almond flour or almond meal is delicious way to add almonds to your diet.
Almonds are high in monounsaturated fats, which is the same type of healthy fat that you get with olive oil. Monounsaturated fats have been linked with a reduction of heart disease and is considered to be good for your overall health.
Difference Between Blanched Almond Flour and Almond Meal:
When you start looking at recipes that call for "almond flour" some of them say you can use either blanched almond flour and/or almond meal. If a recipe just call for almond flour, assume they are referring to blanched almond flour if it is more than 1/2 cup.
If you look at almond meal and true blanched almond flour you can feel and see the difference.
Elana Amsterdam wrote the book "The Gluten Free Almond Flour Cookbook" which I highly recommend. This talented author and baker was the first to bring to my attention the difference between using almond meal versus blanched almond flour. Elana also has a web site where she offers many gluten free recipes using almond flour that is well worth checking out.
However, I didn't just take her word for it. I tried a series of recipes using almond meal/almond flour  to see if there was a difference. The results were quite different.
This is like saying you can use bread flour for baking bread or buckwheat flour…..it doesn't matter. The fact is, in my experience using almond flour, it DOES MATTER which one you use.
However, I concluded that both types of almond products have their appropriate use.
Blanched almond flour creates a much fluffier treat if it isn't combined with other flours.
What is Blanched Almond Flour?
Blanched almond flour is just ground up almonds where the skin has been removed. This is typically a much finer flour and acts more like a "flour" would in baking. It creates a very fluffy texture even if it is the only flour in the recipe. You can also combine it with other flours to create delicious gluten free baking treats.
What is Almond Meal?
Almond meal are the whole almond that is ground up into a meal. This is why the grain is so much bigger.
The great news is that the skin of the almond has flavonoids that are a very nutritious part of the almond, so baking with almond meal is desired if used for the right recipe and in the right amount. Almond meal is actually more nutritious.
Almond meal interacts in recipes much like adding nuts to your recipe. Small amounts of almond meal go a long way. Combine almond meal with other flours to create delicious treats!

What To Beware of With Blanched Almond Flour and/or Almond Meal:
Nuts are very healthy for your body. This is a known fact, particularly when you eat your nuts raw and unsalted.
However, if you eat an entire can of nuts, or even a small handful of nuts, the calories add up quickly.
24 almonds is 163 calories, which you can eat easily with one hand dipping into the nuts.
The same is true with almond flour. Although it is a very healthy fat and a very healthy flour, the calories in almond flour are still higher than that of many other whole grain flours.
Overall I tend to use small amounts of blanched almond flour and almond meal in my healthy baking recipes to get the health value, but not the added calories.
Click here for more information on calories of almond flour and blanched almond flour.
How To Save Money Buying Blanched Almond Flour and Almond Meal
If you go to your local health food stores, all healthy flours tend to be quite expensive. They sometimes don't have the quality either, as almond flour and almond meal should not sit at room temperature for a long period of time. The fats can easily become rancid and there is so much goodness in the flour that bugs can also be attracted to it.
If you buy your blanched almond flour online from the right store, you can save as much as 40-50% then buying from your local store.
I recommend buying almond flour from the following online stores and will continue to add to this list if I find other sources that offer a high quality almond flour at value based prices.
Nuts Online:
Almond Flour
$6.99 a pound
Honeyville:
Almond Flour is $7.30 a pound through Amazon. (The benefit of this is orders over $25 qualify for free shipping through Amazon.)
Bob's Red Mill produces a good quality ALMOND MEAL, but it prices out at $9.80 a pound if you buy their 4 pack almond meal/flour. This is one of the flours that labels itself as almond flour/almond meal. I use it only as an almond meal. To date they do not offer blanched almond flour.
Health Food Stores:
I have seen almond flour sell between $15-$17 a pound in store. WOW! It definitely pays to buy online. You don't even have to buy in bulk to save money online. It is almost always cheaper than in health food stores.
How To Store Blanched Almond Flour and Almond Meal:
Most whole grain flours store very well in the freezer. However, I have not liked the results of freezing blanched almond flour and/or almond meal. When I have stored it in the freezer I was not able to use it right away and it seemed to get clumpy and lumpy.
Therefore, I recommend to store almond flour and almond meal in your refrigerator in an air tight container. Do not leave almond flour sitting at room temperature, as it can go rancid easily.
Happy baking!