Date sugar is a wonderful sugar substitute that is healthy for kids and it tastes great. It is not processed, or refined and it is loaded with  fiber, vitamins and minerals. Date sugar is a light brown, pretty color and has a very wonderful taste.
Date sugar is just GROUND UP DATES!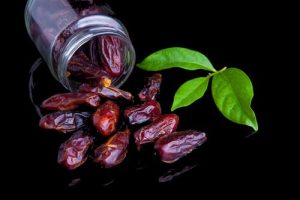 It is a natural sugar made by grinding up dates. It is very healthy for you and tastes really good.
1 cup of refined processed sugar can be replaced by 2/3 cup of date sugar, to 1 cup of sugar depending on the taste you are going for.
Health Benefits of Dates and Date Sugar
1. DATE SUGAR IS PACKED WITH VITAMINS AND MINERALS
Date sugar is loaded with vitamins and minerals like calcium, iron, magnesium, phosphorus, zinc, iron, copper, manganese, and selenium; where white sugar does not.
What a wonderful thing to be able to make healthy muffins, healthy cookies, pancakes, waffles, bread and healthy desserts with a sugar substitute like date sugar that has vitamins and minerals it it.
2. DATES MAKE YOU FEEL FULL LONGER
Date sugar is packed with  fiber, protein and carbs which make you feel full much longer. This can help to curb hunger and help prevent weight gain.
3. HELP WITH CIRCULATION
Date sugar is loaded with Potassium and actually has more potassium per serving size than bananas do. Potassium has many health benefits including helping to prevent cramps in kids as they grow bigger.
4. DATE SUGAR IS LOW IN CALORIES
Date sugar is low in calories at 288 calories for a 1/2 of cup of date sugar; compared to white refined sugar which has 387 calories per 1/2 cup.
5. TIRED MOM'S CAN BOAST THEIR ENERGY WITH DATE SUGAR
Dates are considered to be one of the best energy boosting snacks as they are power-packed with 29 grams of natural sugars such as glucose, sucrose and fructose.
Within an hour of eating dates, you will notice an increase in energy.
6. DATES ARE KNOWN TO HELP PREVENT INTESTINAL PROBLEMS
Eating dates consistently helps to increase the good bacteria that is in the intestines.
What a fun way to eat dates by making living healthy desserts with date sugar.
7. FORTIFY YOUR HEART WITH DATE SUGAR
Eating dates even twice a week has been shown to help fortify the heart. Adding date sugar in your baked treats is a great way to add dates into your life.
8. DATES ARE WLL KNOWN IN HELPING TO PREVENT CONSTIPATION
Dates are known for being wonderful in helping to be regular and prevent constipation.
9. HIGH CONCENTRATION OF POLYPHENOLS-WHICH IS IN GREEN TEA
-According to researchers at the University of Scranton in Scranton Pennsylvania, dates have the highest concentration of poly-phenols among dried fruits. Poly-phenols is what is inside of wine and green tea that has gained so much attention for health practitioners.
Where to Buy Date Sugar?
Many local health food stores sell date sugar, but I am surprised to find how many do not. Also, I have found the prices online to be a lot cheaper than retail stores.
References:
http://en.wikipedia.org/wiki/Date_Palm
http://www.familynutritiononline.com/Health%20Articles/health_benefits_of_dates.htm
http://www.buzzle.com/articles/date-fruit-health-benefits.html