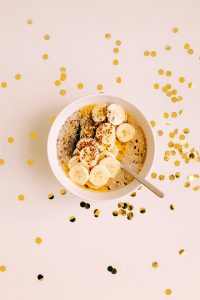 When you taste these scones you will wonder……how could these banana scones be GOOD for you!
These gluten free banana scones are so good that even if you have no issues with gluten, you can enjoy the variety of nutritious flours that are in these vitamin rich scones
Overview of the Sweet Banana Scones
These healthy banana scones are filled with fiber, vitamins and minerals because of all of the wonderful goodies inside of them. These banana scones are made with coconut flour, almond flour and garbanzo bean flour, and are sweetened with Rapadura, a healthy less refined sugar cane product that is very popular in Latin America. (If you don't have Rapadura, you can also use Sucanat, or Coconut sugar. )
These banana scones have NO butter in them and use grape seed oil and applesauce instead. I make these banana scones quickly using an ice scream scoop, and don't bother to shape them as the dough is quite sticky, although you could.
Ingredients For The Sweet Banana Scones
1 1/4 blanched almond flour
1/2 cup of coconut flour
1/2 cup of garbanzo flour
1/4 cup of unsweetened plain non fat yogurt
3 eggs
1/2 teaspoon baking powder
2 ripe bananas
1 teaspoon of vanilla
1/2 teaspoon baking soda
1/4 cup of applesauce
1/2 teaspoon sea salt
3 tablespoons of grape seed oil (Can substitute olive oil)
1/3 cup of Rapadura sugar (can also substitute Sucanat, or Coconut Sugar)
1 cup of carob chips.
Directions On How To Make The Sweet Banana Scones
Preheat oven to 350 F
Sift the flours, baking soda and baking powder and mix well.
Mix the carob chips together with the three flours. (This helps it not sink when it is baked)
If you have a kitchen aid, use the paddle attachment and mix the eggs, oil, applesauce, vanilla, sugar, the two bananas and the yogurt until smooth.
Add the dry ingredients to the wet ingredients and mix until combined.
The batter will be sticky. Drop a spoonful of batter on a parchment lined baking sheet. (This will make round shaped banana scones)
Bake for 15-20 minutes. Do not over bake. Put on baking rack right after you take them out of the oven. Serve warm or cool and eat.
(Freeze any scones that you will not eat within 2 days. It is wonderful to be able to pull out banana scones from the freezer and eat it within minutes)
Enjoy your gluten free banana scones and never be without a quick healthy breakfast again.
HAPPY HEALTHY BAKING!